Since early 2020, our sense of community has taken a hit due to COVID-19. We can't go out as we used to, and sometimes, we have to state why we're leaving home! Bars, restaurants, clubs, and all other social spots remain shut.
And the most painful of all, our gyms remain closed.
But we've got to work out, don't we?
If we're not going to come out post-pandemic with potato-couch bellies and flabby love-handles, we need some gym time.
It is really hard to push ourselves to do the workout at home. It is not as same as to go to the gym, when you reserve the time and go there. We all know that.
I've already tried a lot of home workout programs, but I left them all after some time.
But what about a gamification of the home workout process?
Hyfit Gear 1 is an innovative home exercise equipment that:
Connects to an app in your smartphone
Creates a personal training just for you
Forces you to do the workout regularly
OK, I know, you will have to pay for it.
Sure, but it is only $15/month – and you don't have to pay for the gym…
Enter the Hyfit Gear 1 – an innovative home exercise equipment to get some form of workout in your comfort zone!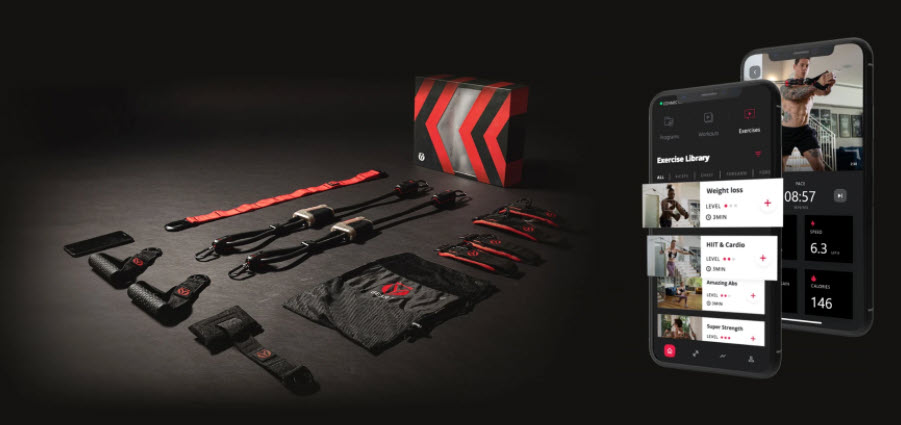 I know you'll be scoffing right now, that this is another all-praise, zero critical review. If that's what you're thinking, think again!
In this review, we'll be examining everything about this gear closely. With such close examination, it becomes easier to make this gear yours or not.
The HyFit Gear 1 – What is it?
At first glance, the HyFit Gear 1 seems like a set of straps and handling fittings wrapped in a bag – almost as same as TRX system. It works similarly, but it is more than that.
And since it sells for $199 ($189 if you use this coupon code: 10off – get it here) or $15/month, it could seem a bit overpriced for some first-time buyers. But with a second look, you could overlook its price tag and value what it offers. On the other hand, buyers in the United States get a free shipping advantage on each order.
Even if you can't access the free shipping discount for this portable gym, it still has much on offer.
When you take its alternative gym system and real time performance tracking into account, it's surely appealing.
The resistance band set helps any portable workout routine with what it offers in one package. If you're keen on something that's not too tasking to fix but offers wider exercising potential, this could be it.

You can easily set up your gym with the HyFit Gear 1. And when you're targeting improved navigation controls to check your performance, it's got loads in store.
And if you're keen on canceling your gym membership for a full home workout, this could be an excellent starter!
How Many Items are in the HyFit Gear 1 Package?
Six (6) items come with the HyFit Gear 1 system. Buyers get two handlebars, two ankle and wrist straps each, two bands, one wall and door anchor each, and a carrying bag. Here's a close look at each item: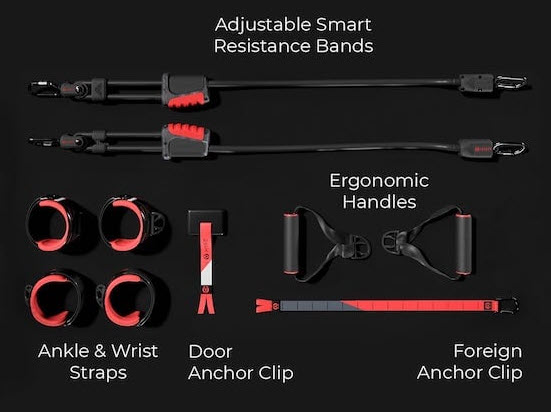 Smart Resistance Bands
The smart resistance bands (two per package) come in an ergonomic design targeted at improved handling and workout potential. These bands allow extension from 2lbs to over 20lbs of resistance force.
These bands also have the built-in sensor that gives the HyFit Gear 1 its popular status. With these sensors, performers can count how many reps they've managed in each session. The sensors also allow exercises to track more than a dozen data points in one workout session.
Wrist & Ankle Straps
The wrist and ankle straps included help you get body workouts without anchoring this Gear 1 band onto anything. With these straps, you can work several muscle groups and engage a full body workout.
Portability is another benefit these straps provide. Outdoor and indoor workouts without any support is easier to achieve. So, if you're targeting getting more workout programs outdoors, consider this resistance band set.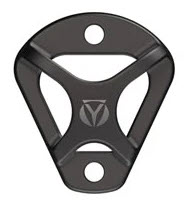 Getting better support for your fitness goals doesn't get any sharper than this for sure!
Wall Anchor
The wall anchor provides sturdier support for improved fitting around your indoor and outdoor space. With this anchor, it becomes less of a challenge to leverage better fitness training.
Door Anchor
Fitting this door anchor in your home provides the right support for getting a workout in your home. Fit it anywhere you want, and start getting a workout!
Ergonomic Handlebars
With these handlebars, you can pull stretch, and get any workout form you desire. It's made from a durable material and looks as something likely to last for long.
Carrying Bag
Storing your resistance training equipment is much easier with the light carrying bag.
How to Set Up the Hyfit Gear 1?
Body-anchored
Working your body could be more comfortable with this set. It comes with an enhanced design and two straps for fitting on your wrist or ankles. Fitting both straps on gives you the opportunity to assume several positions during a workout.

Object-anchored
With the wall anchor, you can set this gear up in any form you like. Anchoring this object provides ample support for getting a workout, whether you're indoors or out. You can fit the wall anchor on a wide range of objects.
Door-anchored
Don't want to go out for a workout?
You only need to hook the door anchor as stated in your package's manual and you're ready to go. Stretch, pull, and assume any stance you desire.
Connecting to Smart Devices
The smart connection from this set offers users ample support for monitoring their performance and reading vital information.
Sensors built into the resistance bands transmit relevant data to your smartphone app (downloadable). With this smart connection, resistance band training just got a little more interesting!
Tracking Parameters from the Smart Home Gym
The tracking feature of this home exercise equipment takes its readings with the aid of an accelerometer.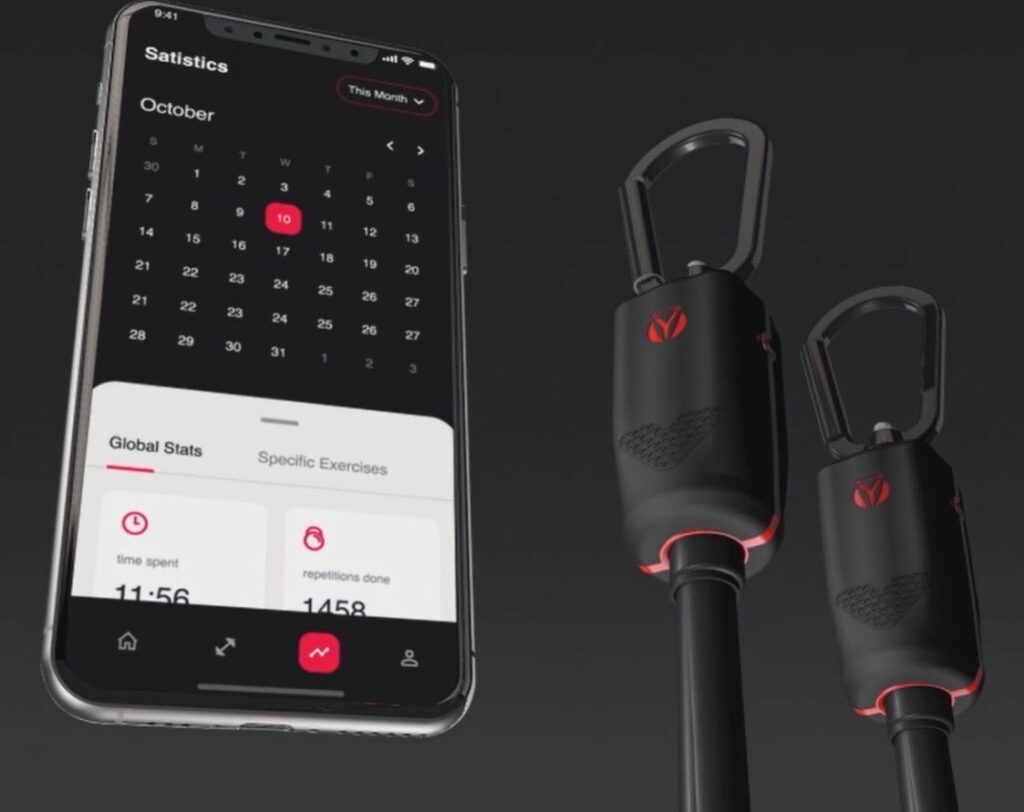 With this measure, more than thirteen (13+) different parameters can be tracked with this equipment. Here's some of the most relevant information tracked by the smart home exercise gear:
Body tension
Overexertion is a dangerous thing.
When too much tension stretches your muscles, the chances of injury are high. That's why with the tension monitoring system from this system, you can tell when you're going too far.
If that's not a great feature, what is?!
It allows you to track the tension on your muscles through its built-in sensors, and helps you remain safe mid-workout.
Strength building
Strengthening your muscles requires extensive exercise fir better results. And one of the best ways to challenge your muscles for hypertrophy is through resistance bands.
These bands offer strength-building support by focusing on several muscle groups based on your routine. Place these bands anywhere you want, and get enhanced stretching for strength-building support with less stress!
Also, the app promises its users estimated info on how much strength they've built over time. With such information from this app, you'll be able to track your progress without much stress.

BMI
Stats on your body mass index (BMI) helps you discover if you're in shape or not.
The HyFit app promises improved support for monitoring your physical weight-height index. Monitoring this info provides ample information to know if you need to engage more workouts or focus on conditioning exercises.
Fat burn
You need to burn out fat that's not been used or risk getting flabby in a matter of weeks. That's why the performance monitoring function of HyFit Gear 1 also displays fat burn information.
If you're keen on getting details of how well you've performed, this set provides you fat burning facts.
Calorie burn
Resistance training is one of the fastest fat burners among workout routines. And with the calorie burn potential and resistance training from HyFit bands, recording your progress makes complete sense.
You can review how much calories you've shed through the downloadable app. Check out your performance with greater ease and know where you need to target next.
Heart Rate
Monitoring your heart rate is another pivotal requirement for a safer, healthier exercise routine. The HyFit app provides users essential information on their BPM range. And with this info, you can be sure how healthy your heart is, and how much workouts you can take.
Customer Reviews – Mixed
When you check several outlets online, you're likely to notice fairly mixed reviews on the product.
In most cases, bad reviews don't really have anything on the resistance bands. Most complaints stem from overcharges and accidental subscriptions. And multiple complaints are based on late shipping and delayed or expired returns.
So when you are ordering the Hyfit Gear 1 from the official store make sure you know that the monthly payment is for a one-year subscription.
So, when you're buying these resistance bands, it's better you get them from a reputable store. The product has great qualities, but when it comes to customer service responses, it's not so great.
FAQs
Where can I get the HyFit Gear 1?
The HyFit Gear 1 is available on:
Can I use the HyFit gym exercise band anywhere?
You can use the HyFit exercise bands in a number of ways, anywhere you like. Please see the How to Set Up the Hyfit Gear 1 section.
Bottom Line
With a long battery life, durable anchor, and progress monitoring, what's not to love from the HyFit Gear 1.
Every part of your body can get worked by this system. And it provides a solution to your lockdown fitness questions.
Leverage your indoor space for a quick, effective workout, or get to the outdoor space you fancy for some tough workouts during the forced quarantine and beyond.
Make this kit your mainstay anywhere you go, and you'll get (and stay) fit without hassle!

I started my sporting career at the age of 3 in the preparation of ice hockey. I spent sixteen years playing ice hockey, and I remember the summer preparations today. What are my passions? It is still fitness training, all kinds of workouts and the most important is a healthy lifestyle. You can't just do a workout without the right way of life. You need to stay curious and listen to your body.